MINIMO - Minimal and Monumental Art at Château Saint-Maur Cru Classé
The Brussels and Geneva-based consultancy ARS BELGA has taken over the three levels of the CHATEAU SAINT MAUR CRU CLASSE for an exhibition in which post-war and contemporary art is mixed with sculptures erected in the middle of the estate's vineyards.
MINIMO - Minimal and Monumental Art at Château Saint-Maur Cru Classé
9 July - 22 August 2021 | Daily 11:00 - 19:00
BETWEEN MINIMAL AND MONUMENTAL ART
MINIMO proposes to explore the creative energy of various artists who have marked their era. The exhibition pays tribute to the artistic selection of the Ars Belga consultancy with works by Pierre ALECHINSKY, Carl ANDRE, Édouard ATHÉNOSY, Stephan BALLEUX, Mel BOCHNER, Bram BOGART, Agustin CARDENAS, Anthony CARO, Maurizio CATTELAN, CÉSAR, Le CORBUSIER, Tony CRAGG, DADAIMANO, Ian DAVENPORT, Piero DORAZIO, Jean DUBUFFET, Tracey EMIN, Barry FLANAGAN, Willy GUHL, Peter HALLEY, Hans HARTUNG, Damien HIRST, Alex KATZ, Wang KEPING, Imi KNOEBEL Joseph KOSUTH, Sherrie LEVINE, Richard LONG, Heinz MACK, André MARFAING, Georges MATHIEU, Paul McCARTHY, François MORELLET, Olivier MOSSET, Kenneth NOLAND, Raymond PETTIBON, Pablo REINOSO, George RICKEY, Ed RUSCHA, Niki de SAINT-PHALLE Fred SANDBACK, Peter SAUL, Nobuo SEKINE, Cindy SHERMAN, Apolonia SOKOL, Vassilakis TAKIS, Jean TINGUELY, James TURELL, Bernar VENET, Marion VERBOOM, Fabienne VERDIER, Andy WARHOL, Lawrence WEINER, Tom WESSELMAN, Zao WOU-KI, Erwin WURM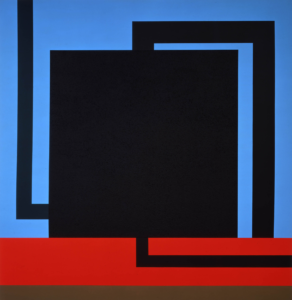 Peter Halley, Rob, 1991. Credits: Peter Halley Studio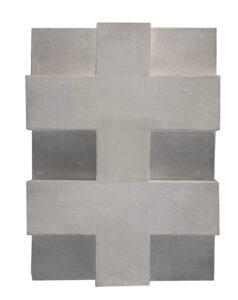 Johannes Jacobs Jan Schoonhoven, R 80-2, 1980. Credits: Johannes Jan Schoonhoven
MINIMO is also celebrating a selection of internationally renowned sculptors including Vassilakis Takis, Agustin Cardenas, Bernar Venet... These sculptures will be installed in the middle of the vineyards and the park of the Château Saint-MaurThe sculptures play with gravity, weight and balance by accumulating various materials and irregularly arranged forms. These monumental sculptures enter into a direct relationship with the space and are erected on the many interior and exterior spaces of the Château Saint-Maur. These works are imbued with the primary qualities of materialsThe instability and irregularity of the material is the result of the fact that it is not always easy to find the right material for the job. The instability and irregularity of these sculptures punctuate the liberated matrices of their geometric structure. The complexity of their structures defies physics and human apprehension posing new hypotheses at the heart of human perception and artistic understanding.
MINIMO is a unique opportunity to celebrate artists who have left their mark on the history of art and to present them in the unique space of the Château Saint-Maur cellar.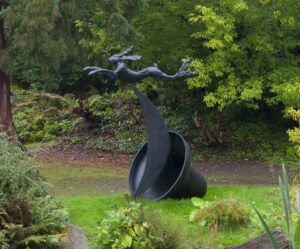 Barry FLANAGAN, Leaping Hare on Crescent Bell, 1988. This image was taken in 2012 at Chatsworth House. Credits: Waddington Custo, London.
Ars Belga is a post-war modern and contemporary art consultancy founded in 2009 that provides independent expertise and professional advice to private collectors and family estates.
With the participation of the galleries : Aktis Gallery, London; Colnaghi, London; The Pill, Istanbul; QG Gallery, Knokke; Galerie THOMAS, Munich; Templon, Paris; Waddington Custot, London, as well as DRM motorsport.